Teams is quickly becoming the workplace standard for business communication. According to Statista, Microsoft Teams has jumped from 44m users in March 2020 to 75m users in April 2020!
At it's core Microsoft Teams is a workplace chat and file storage platform, but it is quickly becoming so much more. Did you know you can run your full business phone system through Teams? Did you also know that you can run a webinar through Teams, without having to add external users to your account?
Teams Live Events is a feature of Microsoft Teams that gives you the ability to broadcast video and meeting content to large audiences, online.
It was designed to replace Skype Meeting Broadcast and it best used in events where a host is leading and attendees are participating and viewing the hosts content.
Teams Live Events is different to a standard Teams Meeting in that it is similar to a TV or radio broadcast whereas Teams Meetings are best for collaboration, screen share and interacting with small groups.
If you already have a production setup that supports streaming to an RTMP service then you can plug your existing webinar setup into Teams, this is a great way to run large auditorium style events. If not that's fine too, you can run the event completely from Teams. Here's how to set it up:
1. Open your Teams Calendar

2. Click the down arrow in the top right corner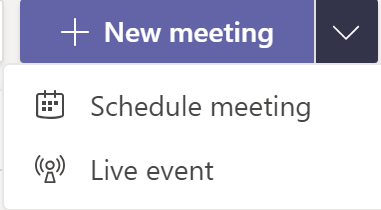 3. Select 'Live event' and add in all the relevant details, including presenters.
NB. you can invite people who are not in your Teams account to present, you just need their email address.
4. Select how you want your event to be viewed, is it to a select group, your whole organisation or is it public.
5. When you're ready to get setup for your webinar, go back into your calendar, click on the event and click join
6. In this screen you can get setup with the content you want to share and/or your video using the 'share' button in the bottom right corner. When you're ready to go live hit the 'start' button on the right hand side.
A quick note on roles, the Producer is the host of the webinar, they have full control over the attendees viewing experience, selects the webinar layout, starts and stops the event and can share content.
A presenter can present audio, video, or a screen to the live event and moderate Q&A.
Live captions are available and can be translated into six other languages! Also, the webinar can be recorded directly to your desktop & then accessed via Microsoft Stream or Yammar.
If you're new to Teams check out our introduction to Teams training video, if you would like help getting setup, please reach out, we would love to help you get started with Teams, or setup your next webinar!